Alabama Visits Capitol Hill Update Overtime Rule
No Comments
October 10, 2016
As Congress Recesses for the Elections, SHRM Working Overtime on the Overtime Rule
| | |
| --- | --- |
| | By Kelly HastingsOct 7, 2016 |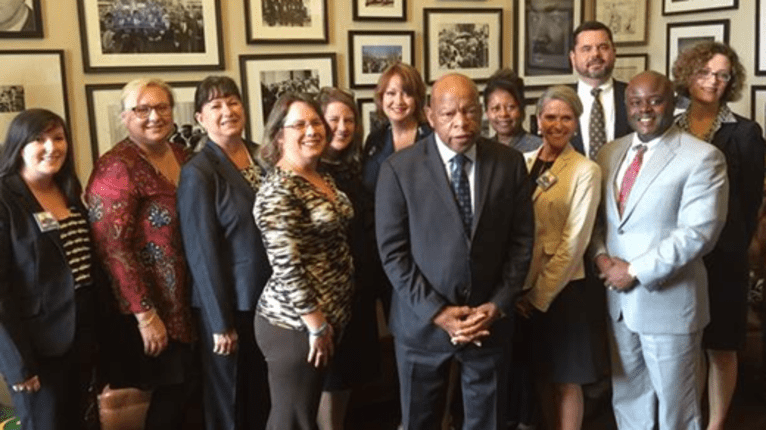 While Congress has turned out the lights and recessed for the November elections, it didn't leave Washington without first signaling that the overtime rule will merit attention when Congress returns to work for its lame-duck session beginning in mid-November. Thanks to some timely SHRM advocacy action, including Capitol Hill visits last month by members of the Alabama (below on the Capitol Plaza) and Georgia (above with Democratic Rep. John Lewis, center) state councils, along with a number of in-district meetings conducted by members of the SHRM A-Team in August, the overtime issue is teed up for action when Congress returns to Washington following the elections.
HR professionals should know that Sen. Lamar Alexander (R-TN) introduced S. 3464, the Overtime Reform and Review Act, which would gradually phase in the Department of Labor's (DOL's) final overtime rule over five years, starting with a salary threshold increase to $35,984 on December 1, 2016. After the 2016 increase, the bill provides for salary threshold increases in 2018 and 2019 (no increase in 2017), with the final rule's $47,476 threshold taking effect on December 1, 2020. It would also prohibit the final rule's automatic annual increases to the salary threshold. SHRM supports this common sense bill, as we are on record as saying that the current salary threshold in the DOL regulations moves "too far, too fast."
The Senate legislation is similar to Representative Kurt Schrader's (D-OR) bill, strongly supported by SHRM, to phase in the overtime threshold over a four-year period. Bipartisan momentum is building on the bill, as Democratic Reps. Ron Kind (WI), Ami Bera (CA) and Terri Sewell (AL) recently added their names to the bill after continued outreach efforts by SHRM members. This important legislation now has 17 bipartisan co-sponsors and counting.
Also last week, the U.S. House of Representatives passed H.R. 6094, the Regulatory Relief for Small Businesses, Schools, and Nonprofits Act, by a vote of 246-177 to delay the effective date of the final overtime regulations from December 1, 2016 until June 1, 2017. Five Democratic members supported the bill, including Reps. Brad Ashford (NE), Henry Cuellar (TX), Dan Lipinski (IL), Collin Peterson (MN) and Kyrsten Sinema (AZ), but the bill's fate in the U.S. Senate is uncertain. The Partnership to Protect Workplace Opportunity, an employer coalition chaired by SHRM, sent a letter in support of the bill, while Republican Sens. James Lankford (OK), Alexander and Susan Collins (ME) introduced S. 3462, companion legislation to the House's delay bill, in the Senate.
With the overtime rule's December 1 effective date looming, it is critical that Congress continues to hear from SHRM and our members over the October recess about the impact the overtime rule will have on their organizations. Find out how you can remain or become engaged.