Event Details
Shoals Chapter Meeting-SPONSORED BY REFRESHMENTS INC
Date:
June 8, 2017, 11:30am – 1:00pm
Organizer:
Location:

First Metro Bank
325 S Pine Street
Florence, AL 35630

Price:

$12 members, $15 Guest, Free for package deal

Event Type:
iCal link
MONTHLY MEETING SPONSORED BY REFRESHMENT INC.
WWW.REFRESHMENTS.NET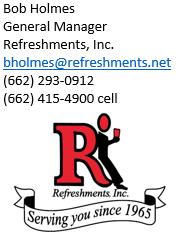 Mike Bean Past President of NASHRM and ALSHRM
EMPLOYEE ENGAGEMENT
Employee engagement is based on trust, integrity, two way commitment and communication between an organization and its members. It is an approach that increases the chances of business success, contributing to organizational and individual performance, productivity and well-being. It can be measured. It varies from poor to great. It can be nurtured and dramatically increased; it can lost and thrown away.
Employee engagement is about being included fully as a member of the team, focused on clear goals, trusted and empowered, receiving regular and constructive feedback, supported in developing new skills, thanked and recognized for achievement
RSVP for Shoals Chapter Meetings www.una.edu/continuing-studies or
email mmfike@una.edu
NO MEETING IN JULY SAVE THE DATE FOR OUR HR CONFERENCE ON TUESDAY AUGUST 15, 2017 AT UNA FLROENCE, AL