Event Details
UNA 22nd Human Resource Management Conference Tuesday 8/15/2017
Date:
June 10 – August 15, 2017
Organizer:

Shoals Chapter SHRM #0700 & UNA

Location:

University of North Alabama UNA
Gulliott Center
Florence, AL

Price:

$139 for Non-SHRM Members, $99 SHRM Members and Students discount available call 256-765-4862 to register

Event Type:
iCal link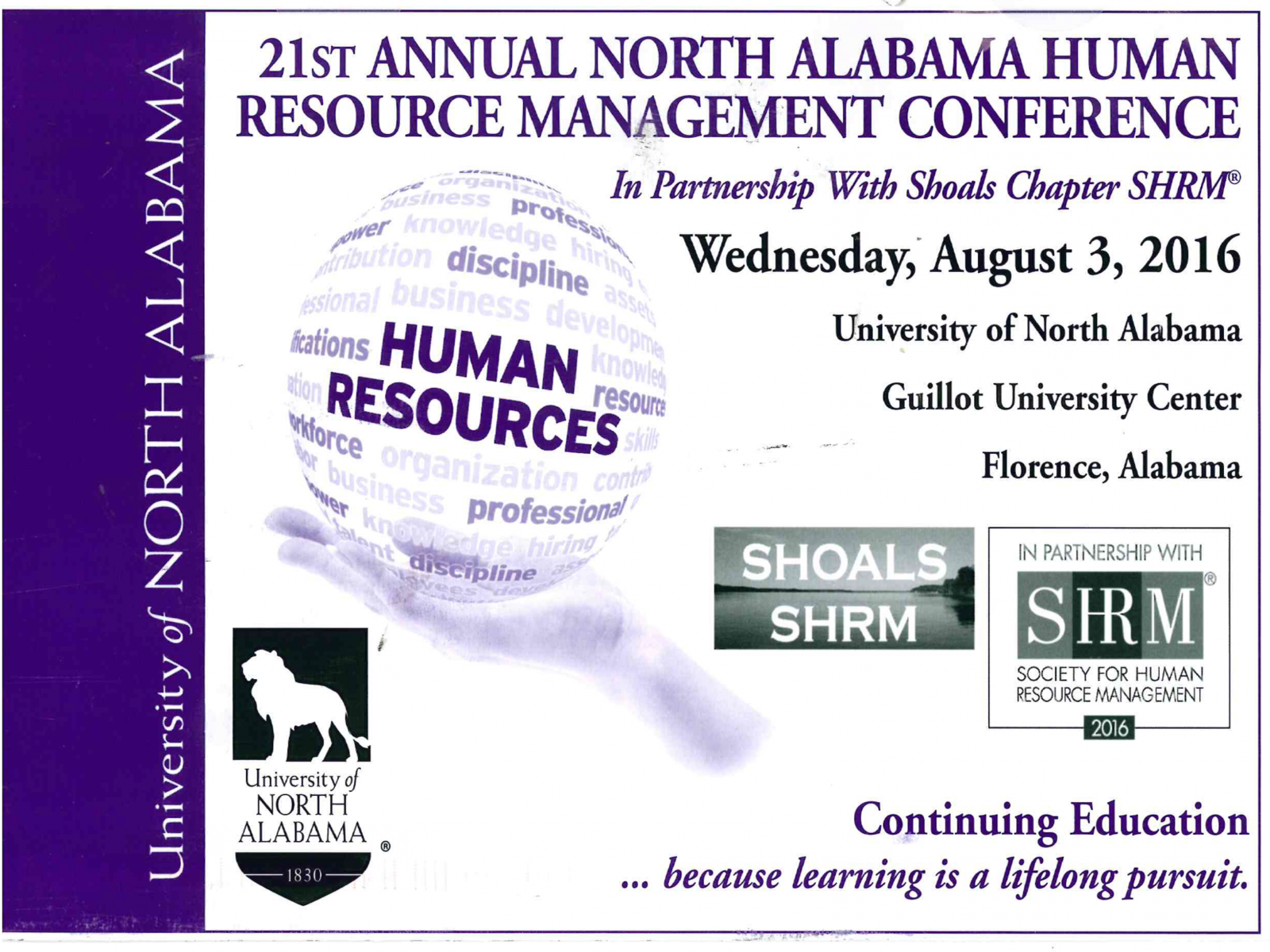 Save The Date Tuesday August 15, 2017
Register www.una.edu/continuing-studies
Conference vendor/sponsorship available
contact Crystal Wilson at cry4wilson@yahoo.com or 205-412-1032 or 205-484-7519
Click her for a Sponsor Invoice
University Of North Alabama Meghan Fike, CPP Program Coordinator Continuing Education & Outreach
UNA Box 5036
Florence, Alabama 35632
(256) 765-4862 - main (256) 765-4289 - direct
Pending 6 hours of HRCI & SHRM CP-SCP Credits
Donna Pearson Compliance Management donna@pearsonsafety.com
Presentations
Ergonomics in the Workplace How to Make it Fun!
1. How to conduct an evaluation to target your individual companies' problems
2. How to incorporate a program and make it FUN!
3. Tips on reducing your ergo w/c claims in the workplace
New OSHA Record Keeping Final Rule
1. What the new laws are and how they affect individual companies
2. How to fill out the forms electronically to meet OSHA requirements
3. How the new law will impact your company going forward
Presenter Julie M. Kowalski with Spizzerinctum Group
189 Oakleaf Drive Pine Knoll Shores, NC 28512 262-993-4883
Spizzerinctumgroup@gmail.com TAKING ORGANIZATIONS AND LEADERS TO THE NEXT LEVEL
Accountability: How to Hold People Accountable Even When They Don't Report To You!
1. Learn how to develop a new context about accountability. One in which team members welcome responsibility, and deliver agreed-upon results, despite obstacles and without excuses
2. Significantly increase responsibility/ownership & results (your own and those of others)
3. Eliminate the blame game/citing confusion/uncertainty for inaction
4. Build stronger more positive & productive relationships with subordinates as well as colleagues / others you count on to get the work done
Emotional Intelligence: Why It Is Your Unique Advantage as an HR Professional
1. Understanding EXACTLY what Emotional Intelligence IS and IS NOT
2. The five levels of Emotional Intelligence and how you master each level
3. How you as an HR Professional can use Emotional Intelligence to significantly increase your promotability
4. How a high level of Emotional Intelligence can help you more effectively (and efficiently) engage your team members
5. How to leverage EI in your communications
Presenter Jeffrey L. Roth, CPCM F&B Law Firm, P.C.
213 Green Street | Huntsville, Al 35801 Telephone: (256) 536-0095, ext. 104 | Facsimile: (256) 536-4440 JRoth@fb-pc.com | www.fb-pc.com
Presentation Compliance/Pitfalls and Fair Labor Standards Act
What the heck do I do now?
1. It's important to remember that the new overtime regulations were in response to the 8 million employees the DOL currently considers to be misclassified. If your employees are among them, you're still at risk for FLSA wage and hour lawsuits.
2. New regulations still haven't been discarded entirely. T
For employers who have yet to implement changes within their companies to comply with the FLSA
1. The preliminary injunction decision will be appealed to the Fifth Circuit Court of Appeals. If the decision is reversed by the Fifth Circuit, and the employer has not been in compliance on the December 1 effective date, a thorny question arises.
In other words, failing to comply between December 1 and the new effective date could be a serious gamble.
For employers who have spent the last several months making important changes, and have already communicated those changes to their employees, it may be too difficult to backtrack those changes without taking a huge blow to employee moral.
1. Fortunately, if you fall into this category, rather than admonishing yourself for jumping the gun, you should give yourself a big pat on the back for taking the necessary steps towards compliance.
2. Long story short, no matter what the overtime threshold, and no matter what the final ruling, FLSA violations like employee misclassification and mishandling overtime shouldn't be taken lightly. protect yourself and your business in 2017