Event Details
SHRM Learning System SHRM-CP/SHRM-SCP
| | |
| --- | --- |
| Date: | January 5 – March 16, 2018 |
| Organizer: | UNA and Shoals SHRM Chapter |
| Location: | UNA Continuing Education Located at 1640 Tune Ave Florence, AL 35630 |
| Price: | |
| Event Type: | |
| iCal link | |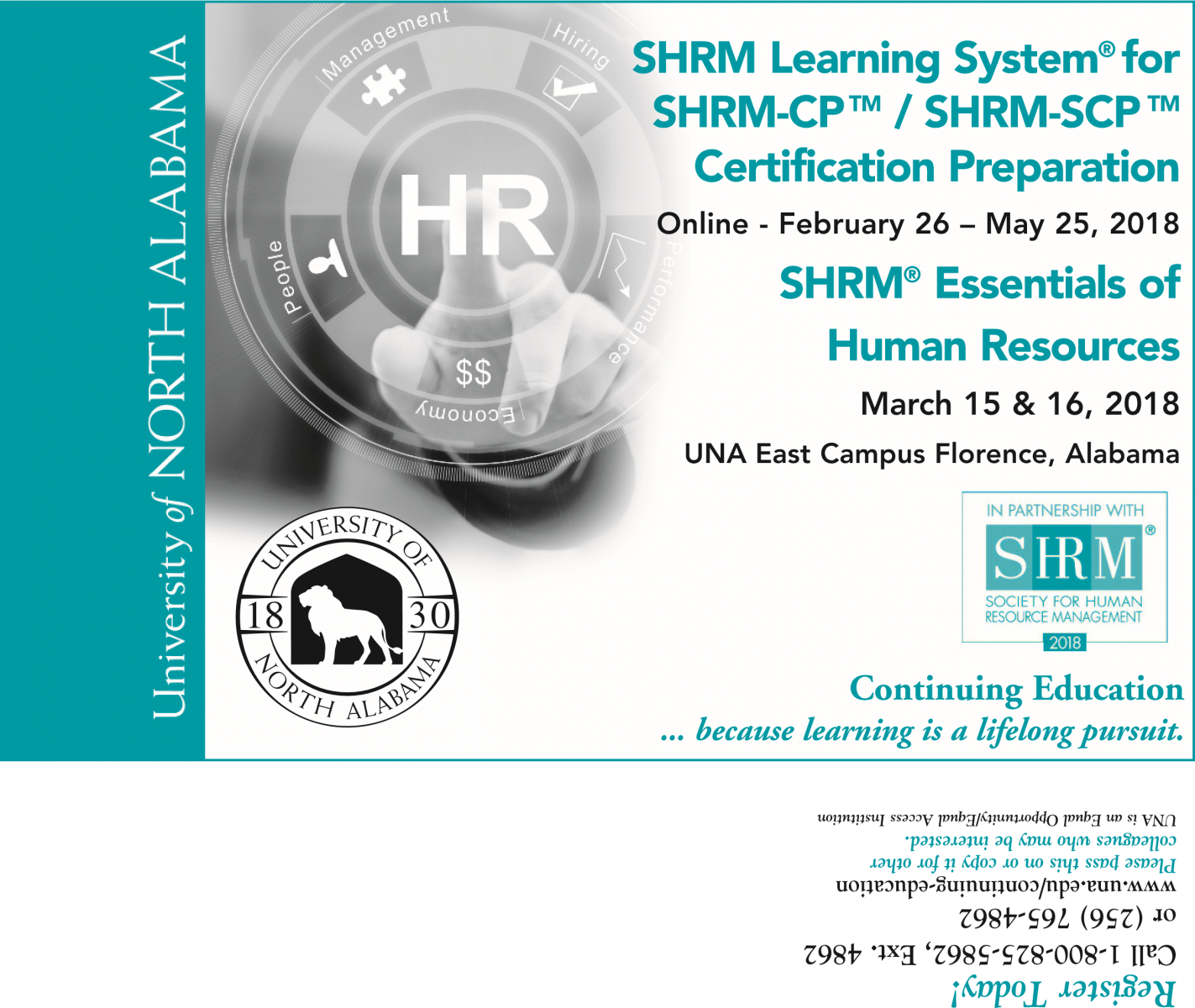 Demonstrate Your HR Expertise and Gain Practical Skills
The Future of HR is SHRM–Certified
Establish yourself as a globally–recognized human resource expert by earning the new standard in HR certification: SHRM Certified Professional (SHRM-CP®) and SHRM Senior Certified Professional (SHRM-SCP®). These professional certifications can open doors for professional advancement, serve to harmonize standards with changing expectations and signal to employers advanced professional development.
Ensure you're prepared with our course designed for SHRM credential candidates. Expand and test your knowledge and practical, real-life competencies in areas critical for HR career success.
This intensive 13 week program combines expert instruction with the 2018 SHRM Learning System® for SHRM-CP/SHRM-SCP, so you will learn faster, retain more knowledge and stay on track for success on the exam.
Why Enroll in Our Course?
Offered in partnership with the Society for Human Resource Management (SHRM), the curriculum provided in the 2018 SHRM Learning System is designed by global subject matter experts and covers the entire SHRM Body of Competency and Knowledge™ (SHRM BoCK™). Throughout the program HR professionals are encouraged to acquire the Competencies and Knowledge they'll need to effectively perform their jobs and achieve career success.
UNA's Program offers you a preparation course to help meet your needs and increase your success on the SHRM-CP and SHRM-SCP exams.
Benefits To You
You'll benefit from:
Experienced, SHRM-certified instructors.
The SHRM Learning System, historically ranked the #1 HR certification prep tool.
2018 SHRM Learning System Textbooks
Ability to acquire the knowledge and understand the behavioral competencies to help you prepare for the exam.
A structured learning experience that keeps you on track.
Earning up to 36 professional development credits (PDCs) if you are attending this program for professional development only.
Benefits To Your Employer
Certification benefits your entire organization:
It demonstrates that your HR professionals have mastered the application of HR technical and behavioral competencies.
Certification prepares your HR staff to assume greater leadership roles and contribute to the strategic direction of your organization.
Exam preparation helps HR professionals bring new ideas to your organization that will help drive success.
It helps create a common HR language that optimizes consistency and effectiveness.
Certification is relevant worldwide, as exams cover the new global SHRM
BoCK™.
Who Should Enroll In This Course?
Our certification preparation course is designed primarily for individuals seeking SHRM-CP or SHRM-SCP certification. Certification is a great choice for HR professionals who want to:
Increase their knowledge
Advance their skills
Earn recognition from the global community
Advancing your career. For those not seeking certification, the SHRM Learning System for SHRM-CP®/SHRM-SCP® Certification Preparation course provides a comprehensive and accelerated option for professional development. Participants gain a generalist viewpoint, refresh key ideas and concepts, strengthen their understanding of core HR competencies and increase productivity in the workplace.
SHRM® Learning System for SHRM-CP® / SHRM-SCP®
Certification Preparation – Online Format
February 26 – May 25, 2018 • Course No. 18SPHR10101
Price: $999; $949 for SHRM® Members • Class Meetings: March 3 & 17, April 7 & May 5
8:30 am – 12:00 pm • Location: UNA East Campus • Instructors: Ashley Butler, SHRM-CP, Melissa Self, SHRM-CP, Yvonne Thomas, SHRM-CP & Crystal Wilson, SHRM-CP
Please note: There is a $2.00 registration fee per order. Class fees include the SHRM Learning System® for SHRMCP® / SHRM-SCP® Certification Preparation print modules, online learning software, access to online Resource Center and UNA Certificate completion.
shrmcertification.org Course Topics
The SHRM Learning System® for SHRM-CP and SHRM-SCP is comprised of four modules of study: MODULE // HR COMPETENCIES
Leadership & Navigation
Ethical Practice
Business Acumen
Relationship Management
Consultation
Critical Evaluation
Global & Cultural Effectiveness
Communication
MODULE // ORGANIZATION
Structure of the HR Function
Organizational Effectiveness & Development
Workforce Management
Employee & Labor Relations
Technology Management